07 Mar

Home Design Trends of 2018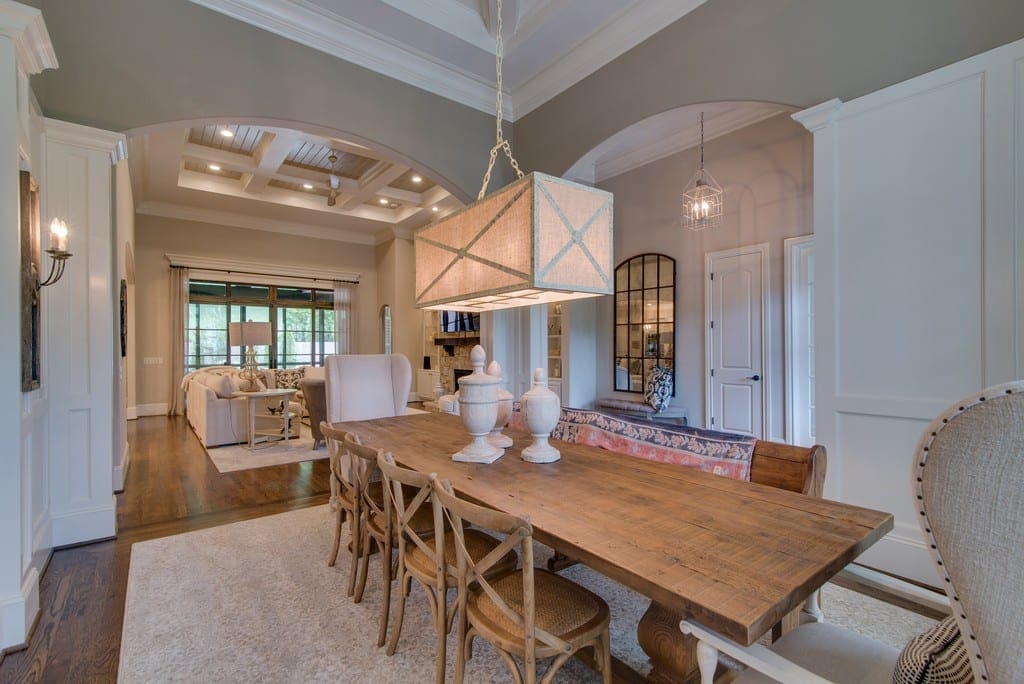 Custom Homes with Custom Home Design
It's that time of the year again to bid farewell to the design trends of 2017 and give a warm welcome to the new design trends of 2018. As we stride into a new year, we are going to be introduced to quite a few bold and beautiful design elements that are sure to make 2018 a statement year. Although 2018 is a new year with new decor trends, there were a few home design trends that were too good to say goodbye to in 2017. If you look closely, you'll notice a touch of 2017 here and there that's been modified and revamped. To learn more about custom homes and custom home design in Brentwood, TN, Franklin, Arrington and Thompson Station, TN, contact custom home builder, Tennessee Valley Homes, today!
Let's take a look at the 2018 home design trends:
Bold Floral/Tropical Patterns: Back and better than ever is the bright, bold, and beautiful trend of tropical and floral patterns. Since this trend was loved by so many designers and homeowners in 2017, it's making a well-deserved comeback. Rebecca Snowden, an Interior Style Advisor at Furniture Choice, states, "Last year's tropical prints were bright, with vivid shocks of colour through floral and typically tropical, sunny backgrounds. This year, we will see a focus on prints with dark, jungle-esque backgrounds, and leaf prints in their true, deep green colours". With that being said, even though our beloved tropical and floral trends are making a comeback, we will be seeing them implemented in a more moodier tone. However, this trend will be seen in more than just our interior decor, floral/tropical prints will also be seen in our wardrobes, too!
Warm Colors: Although the white look took over 2017, as we roll into 2018, more and more designers will be focusing on warmer colors. The warmer colors design trend is one way to make a room feel more inviting. Some of these rich, warm colors include caramel browns, warm reds, summery yellows, brown-beiges, and softer greens. The focus on warm colors can be used in almost any design element within a home. Many love to paint their walls with these rich colors, while others tend to focus on implementing it in their furniture pieces.
Bold Colors: Although 2018 is boasting the warm color trend, it's also bringing forth a trend that focuses on bold colors as well. Ready to see bright reds, vivid blues, pops of purple, perky pinks, and grassy greens. Designer Randi Lee explains, "Bold colors are going to make a comeback in 2018 staying inside of the monochromatic trend of 2017. The idea is that you'll have a bold color like pink, but different hues of the same color". So, if you love to live boldly, interior designers give their go-ahead with painting your walls with these vibrant colors, or to incorporate different design elements such a bright and bold throw pillows, rugs, furniture, curtains, and accent pieces. You can even brighten up your kitchen with these fabulous colors.
Wabi-Sabi Style: Though it may sound like a spicy, Japanese culinary paste, Wabi-Sabi Style is the newest trend to take over 2018. The inspiration for this new design trend comes from a Japan-native philosophy to find and embrace the simple and natural beauty in things, even if they have imperfections. The Wabi-Sabi Style features woven items such as baskets and shelves that are made from woven materials. The Wabi-Sabi style is the perfect interior design trend that gives homes that 'homey' appeal. For bonus points, the Wabi-Sabi Style fairs well with warm, rich accent colors.
Geometric Decor: As we move further in 2018, our go-to geometric design pattern, chevron, is soon becoming a trend of the past. However, if you love the bold-pattern look, don't fret because 2018 will be boasting some eye-catching geometric decor trends that are far better than the outdated chevron look. Design experts claim that this year, geometric accents are going to be bigger, bolder, and implemented with more unique color schemes. Additionally, this trend isn't limited to one room either. Many interior design experts are incorporating geometric designs in kitchens, bathrooms, living rooms, and bedrooms. Here are a few ways you can include geometric designs in your home:

Geometric tile for bathrooms and kitchen backsplashes
Wallpaper with geometric designs*
Geometric fabric (throw pillows, rugs, curtains, etc.)
Geometric accent pieces
*ceiling wallpaper with geometric designs is another popular trend that will be presenting itself this year.
Custom home design experts are putting a great focus on bright, bold, and beautiful – something that we can hope to implement in more than just our custom homes this year. Contact custom home builder, Tennessee Valley Homes to learn more about our custom homes and custom home design in Brentwood, TN, Franklin, TN, Thompson Station, TN and Arrington, TN.