12 Feb

Top Features of Luxury Homes (Updated 2022)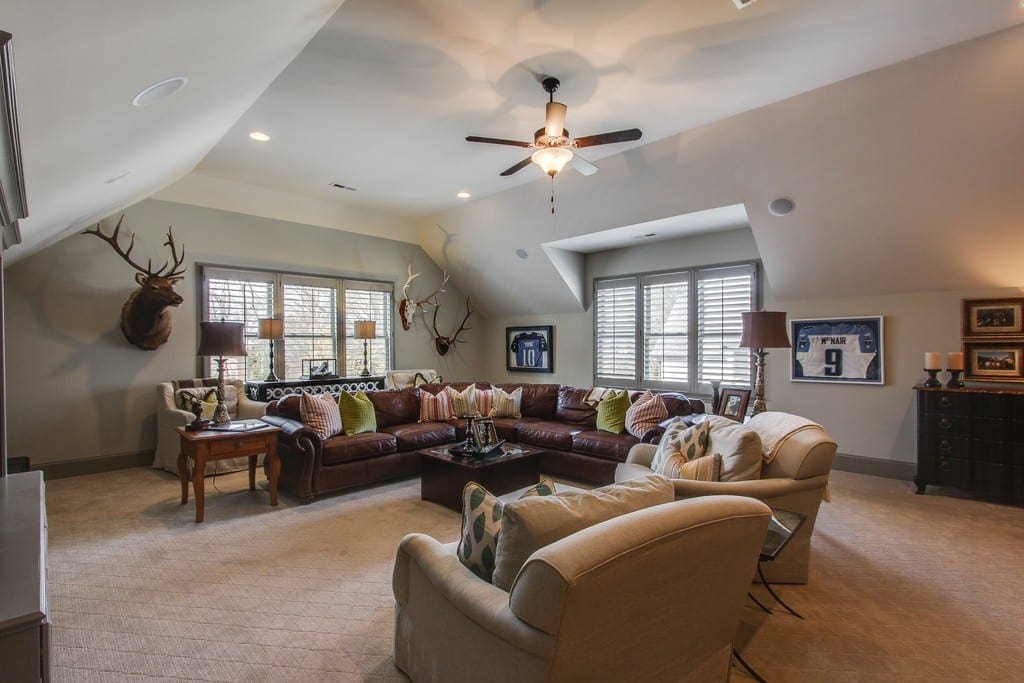 Editor's Note: This post was originally published in July 2017 and has been updated with new content to better enjoyment.
Here, we detail some key features of luxury homes – you want your custom home to be a place of luxury, right? Here's what luxury home builders are seeing – and you can incorporate some or all of these into new homes in Franklin, TN, Brentwood, TN, Arrington and Thompson Station, TN.
Top Features of Luxury Homes: Technology, An Incredible Kitchen, Outdoor Kitchens and Pools, Landscape Design, Game and Theatre Rooms, Spa Bathrooms, and Exercise Rooms.
Technology
We cannot shy away from the ever-increasing swarm of technological innovations. From home elevators to residential security systems, today's homeowners want it all when it comes to technology, and the home builder that caters to this tech-trend is the one who stays at the top of the real estate market in middle Tennessee.
With a touch of a button on your iPhone you can now lock your doors, control your homes climate, control lights and control your alarm system all from the other side of the country! These are the built-in features that today's luxury homebuyers are looking for.
Home builders in Arrington, Thompson Station, Franklin and Brentwood, TN, who install these wireless home automation devices are spot-on with the trends that luxury homebuyers want. On the opposite end of the technology spectrum is a growing trend for reclaimed materials. Homeowners are increasingly becoming aware of their environmental imprint and are looking for new homes that use old reclaimed materials such as wood beams, wood flooring and doors.
An Incredible Kitchen
Ah the kitchen, the heart of the home. Opulent living requires a magnificent kitchen. Forbes Magazine cites that an appliance-lined, commercial-grade kitchen is a necessity when it comes to a million dollar home.  An affluent kitchen will always contain warming draws, wine fridges, restaurant quality appliances, and plenty of storage via a walk-in pantry.
Outdoor Kitchens and Pools
A fully-stocked indoor kitchen is simply not enough for one who seeks luxury.  Wealthy buyers now crave the creature comforts of a cozy outdoor kitchen and cooking area.
The top amenities of the ideal outdoor kitchen would include a built-in gas grill, a sink and stainless food prep area, a small fridge for food and drink storage, and plenty of lavish stone patio seating areas for entertaining.
Large pools, hot tubs and changing cabanas also top this lavish wish list. Expansive pools with water features such as waterfalls and plenty of privacy are a must. The leisure life is moving out-of-doors and those homes that have this al fresco flair rank higher for buyers than those without outdoor amenities.
Landscape Design
In addition to outdoor amenities, luxury landscaping designs are essential if you want to achieve the perfect look for your luxurious home. The arrangement of plants provides a reflection of elegance and charm with distinctive composition that ties in all of your home's best features.
Game and Theatre Rooms
Gaming and movie rooms are an oldie but a still a goodie when it comes to luxuriant living in new homes.  It is already a given that a million dollar home should have an in-home theatre and game room. Wealthy home owners are looking to take this trend even farther with amenities such as indoor basketball courts, indoor pools, and lavish sports bar set-ups that feature televisions and liquor storage.
Essentially, the more unique gaming and theatre facilities there are, the better; the main goal being the creation of a space where a homeowner never feels the need to leave the comforts of home – it's all there at their fingertips.
Spa Bathroom
A sumptuous life requires a sumptuous bathroom.  The travels of an affluent individual will take them to some of the world's best spas and hotels.  Homeowners want to re-create this opulence into their everyday lives via spa-like bathrooms in their very own homes.
This includes massive walk-in showers with head-to-toe shower jets, floors with radiant heat, towel warmers, and of course a huge soaker tub where one can escape the stresses of work.
Exercise Room
Not everyone likes to sweat it out at the gym in front of everyone. Who can blame them when they can have their own private fitness facilities in their new home? The zenith of home gyms would obviously include plenty of space for weights and equipment, but would also include built-in wireless speakers, televisions, and of course, a sauna and indoor pool for post-workout relaxation.
Contact Tennessee Valley Homes for all your Luxury Home Building needs!