03 Aug

Luxury Bathrooms in Custom Homes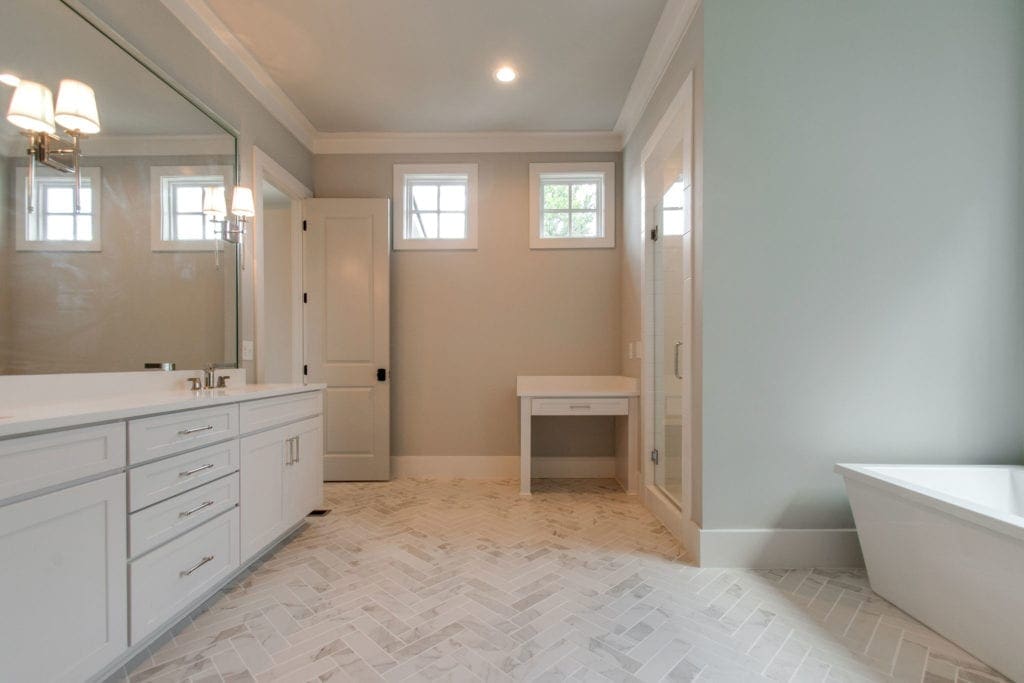 Your custom home should be about comfort and style. Don't overlook the bathrooms! Here are some great ways to take the bathrooms in custom homes from ordinary to extraordinary.
Soaking Tub and Tub Room
A soaker tub is the epitome of luxury for any bathroom. Select the right material for your tub, such as a cast-iron, copper or brass for retaining the bath water heat longer than a porcelain or acrylic tub. Acrylic and fiberglass tubs are the least expensive, but crack and fade over time and use. Stone and wood tubs require regular maintenance to keep looking good as do copper and brass tubs.
Kohler allows you to customize with length, width, height, type of hydrotherapy, heated surface, music, shape, water depth, and type of material for free-standing soaker tubs.
Tub Rooms
A luxury bathroom must-have is the tub room. This can be defined by a stunning bay window or simply be an offset extension to the main bathroom. Announce this grand addition with a pair of columns on either side of the door opening. You can add draperies tied back when not in use.
Outdoor Tub Room
It's not enough to simply have a sculptured soaking tub. If you live in a tropical climate, you can create an outdoor tub room complete with high walls and lots of lush plants for an exotic setting for outdoor bathing. Add a pergola with wisteria, climbing roses, or ivy. For colder or seasonal climate, an outdoor tub room effect can be created with a glass ceiling to take advantage of star gazing and windows to open during warmer months while being surrounded by a year-round garden.
Radiant Heat Floors
Nothing says luxury better than radiant heat floors. Stepping onto marble floors that are warm against bare or wet feet brings home the pleasure of a truly opulent bathroom design.
Fireplace
In planning your bathroom layout, be sure to allow enough square footage to accommodate a gorgeous fireplace. After all, you need a place to set a chaise lounge chair to take a small nap or simply enjoy the after effects of relaxation from a soaking bath, steam shower, massage, or sauna.
Wall-Mounted Fireplace
Another fireplace option that is a popular choice is a wall-mounted fireplace at the end of a drop-in tub design. This added feature can provide a romantic flair as well as warmth to bath time.
Slab Shower Wall
Consider a slab shower wall for a cleaner aesthetic and easy maintenance. A slab shower wall is becoming a popular choice that best fits a minimalist style and luxury design.
Steam Shower or Sauna
There are many different steam showers on the market. A luxury steam shower is fully loaded to include massage jets, chromatherapy, ceiling and handheld showerheads and a built-in radio.
Massage Table
Having a massage therapist come to your home is the ultimate pampering. Make it easy on your therapist and yourself by including a massage area in your bathroom design along with your own massage table. This is the way to personalize your therapy and create that serene ambiance only this kind of luxury can convey.
Forget hiring a masseuse. The Hydro Massage table is the ultimate home therapy choice. Used in chiropractor offices, you can bring it home. The table system uses water through air technology and jet system for a full body massage.
Heated Towel Rack
A warm towel to great you after a steam shower or long soak in a deep soaker tub is a must for any luxury bathroom. Radiant towel racks come in all designs and sizes.  The finishes can include brushed or polished chrome. Some racks are mounted on the wall while others set on the floor.
Custom Home Builder
For more information on luxury bathrooms and custom homes in middle Tennessee, contact a premier custom home builder. Tennessee Valley Homes has been a home builder in Franklin, TN, Brentwood, Arrington, Thompson Station and the Nashville, TN area for more than thirty years.